Which football shirts have the most different animals on them? | Football
"During Oxford United's Carabao Cup tie against Manchester City, I noticed that their shirts displayed four different animals: an ox, a puma, a dragon and a bull." writes Michel Sedor. Dragon? "Has there ever been a team jersey with a more diverse menagerie?
If we were to allow mythical beasts to count as animals, the Oxford shirt would indeed contain four of them: an ox on the club crest, a "dragon" as part of the shirt sponsor, a puma (the maker of the kit) and, to be 100% accurate, a water buffalo as part of the Carabao logo on the sleeves.
The 2013-14 Coventry City side can claim a particularly eclectic five, although two of them aren't real. You have the elephant, griffin and phoenix on the club crest (obviously), the ubiquitous puma and an octopus on this season's shirt sponsor, the Grace Research Fund.
When Barnsley were beaten 3-1 by Blackpool in the Carabao Cup this season, the Tykes could also count five: a falcon, a boar (there are two but they only count as one type), the water buffalo water (sponsor), a griffin (mythical) and a puma (kit). There are also two stoic-looking men on the club crest, a miner and a glassmaker. And depending on whether you believe humans are just puffy animals or not, you could say there are six of them.
But, if we're going to be strict on the definition of an animal, then Burnley win with five different creatures (none of which are fictional) on their shirts in League Cup matches. They are aided by three on the club crest – bees, a stork and a lion, while the kit is made by Puma and the sponsor's water buffalo completes the menagerie.
Can a team beat this? If so, you know where to find us by email or tweet @TheKnowledge_GU.
It's a trap
"In the Champions League final this year there was a moment when four, or maybe five, Liverpool players were all taken offside at the same time," mails Oliver Rowe. "Is this a record?"
Maybe not. "At the World Cup this summer, five Senegalese players were taken offside in their group game against Japan," writes Ryan Sandrey. "It was a very late call, which must have meant the Japanese defenders had their hearts in their mouths."
Perhaps Japan's well-drilled offside trap has its roots in Gamba Osaka. "I vividly remember when Adelaide United had a fairy tale run to the Asian Champions League final in 2008," recalled Michael Hargreaves. "Lagging in the first leg against Gamba Osaka, they had a free kick that looked promising from the right wing. The defense ran out and took eight players offside.
Which clubs have made their own kits? (2)
Last week we looked at clubs that picked up needle and thread and made their kits in-house. Here's David Williams with another:
"Reading Knowledge this week I was surprised no one had mentioned Brighton's 'effort' into designing 1980s kits through their own company Sports Express," he wrote. "As you'll see in this photo of Ray Wilkins' brother Dean, the away kit had wavy red and white stripes that looked pink. The home kit was a bit better as it looked like a Tesco carry bag with Nobo emblazoned on the chest.
Ed Barrett adds: "Borussia Dortmund produced their own kits in the early 2000s. From around 2000 to 2005 they had various boring designs from a company called Goool. This company in turn belonged to the BVB group but was sold at some point (probably because the club was going bankrupt).
And there's more. Alan Cormack, takeaway: "Roma wore a bespoke kit for the 2013-14 season. Their new American owners decided that the quality of their existing Kappa kits was substandard (although the suspicion remains that they simply wanted a more prominent brand associated with the club), so they broke their contract and struck a deal with Nike. It only started in the summer of 2014, but in the meantime the club has produced its own kit. What makes this example perhaps unique, however, is the fact that in the absence of a shirt sponsor, the shirts were frequently emblazoned with the slogan of the club's associated charity, Roma Cares. So not only was the Roma jersey this season made by the club, but it was also sponsored by the club.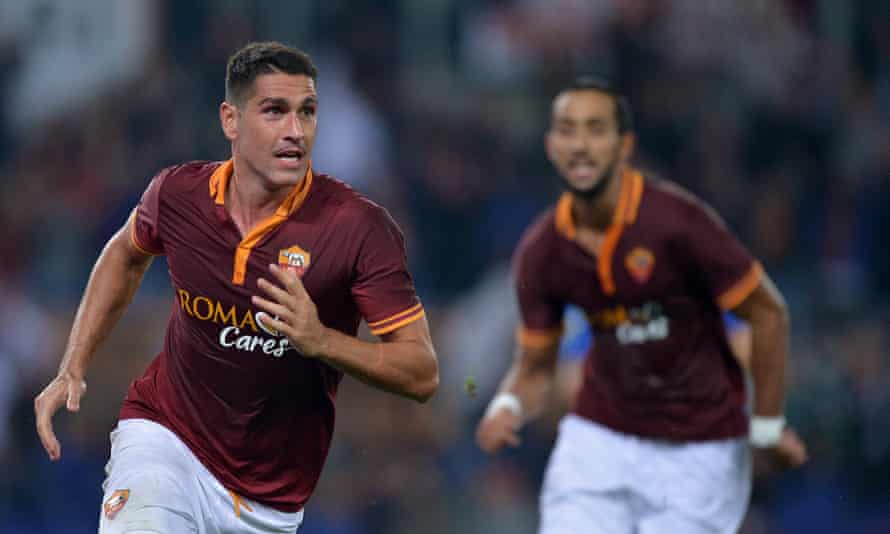 "I also know of an example of a national team making their own shirts, albeit perhaps more literally. In his book Touched by God: How we Won the Mexico '86 World Cup, Diego Maradona talks about how Argentina was deeply unhappy with the material used for their official Le Coq Sportif away kits, which Maradona says 'weighed on us like a wet sweater'. So, on the eve of the now infamous quarter-final in England, an Argentine FA employee was sent to scour local sports shops for something more suitable. When he returned with a preferable set of shirts, two seamstresses were employed to sew the badges and, according to Maradona, by the time their kitman Tito Benros had ironed the shiny silver numbers on 38 shirts: "He looked de should have been at the carnival, not at the Azteca stadium. "
Knowledge Archive
"Which player has scored the most goals in games that were then abandoned?" asked Roland Tye in December 2009.
Many of you emailed to point out that in 1961 Denis Law scored six goals for Manchester City in an FA Cup tie against Luton, before the game was abandoned with City leading 6 -0. In the rearranged match, Law's team lost 3–1.
For thousands more questions and answers, check out our archives.
Can you help ?
"After Steve Bruce had a cabbage thrown at him, it made me wonder what other weird fruits or vegetables were thrown in the direction of underperforming managers or players?" asks George Jones.
"Has any team, in any professional league, finished a season with negative points?" asks Doug Zanger.
"When Arsenal met Brentford in the Carabao Cup it was their first meeting since May 1947," writes Chai S. "It's an incredible 71 years between meetings for these two London-based clubs. between two professional clubs from the same city?
"Recently Keisuke Honda signed for my hometown club Melbourne Victory in the A-League," writes Karan Dhamija. "A few days later, he was also announced as the manager of the Cambodian national team. Has a player been a manager of another team while playing? Even better if there has been a case where a player ran a national team like Honda?"
"I notice that James Collins has been training with Aston Villa with a view to a transfer to his former club," writes Nick Harrison. "The change seems unlikely, but had it happened Collins' last four clubs would have been Villa, West Ham, Villa, West Ham. Can anyone beat this hokey-cokeying between two clubs?
Email your questions and answers to [email protected] or tweet @TheKnowledge_GU.