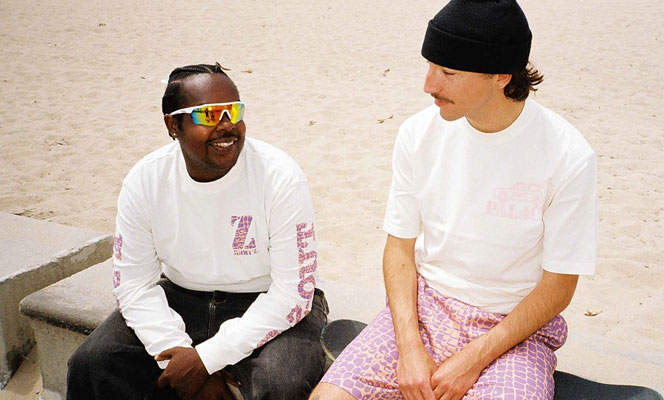 Summer 2022 style guide: Palace T-shirts
Kicking off a new season, the London-based streetwear brand Palace prepared a diverse range of t-shirts that includes a number of collaborations, as well as the brand's signature graphic tee styles.
The extensive spring-summer collection includes capsules with Jimmy'z, Elton John, Brixton Baddest and many more. The DSCENE team has prepared a special list of the best PALACE t-shirts you can wear this summer.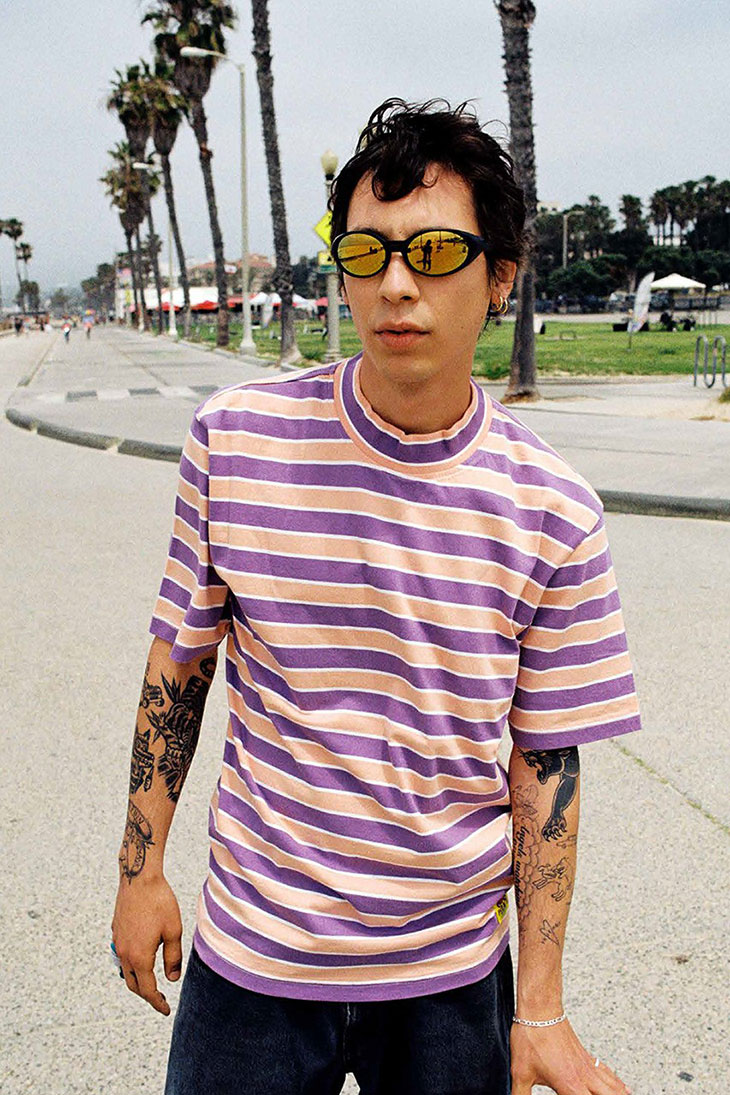 Palace X Jimmy'z Striped T-Shirt
Palace has collaborated with Los Angeles-based surf brand Jimmy'z on a special summer-ready capsule collection. Founded in the early '80s by Malibu Beach-based surfer and artist Jimmy Ganzer, the brand gained popularity with its EZ-In Velcro closure shorts.
The collection includes short-sleeved shirts with an all-over eye print, a cotton bomber jacket, three styles of tees and a new take on the signature shorts, while the color palette comes in mint, white and pastel pink. This crew neck t-shirt features pink, purple and white horizontal stripes and is perfect to combine with pink leopard print shorts from the same drop. Shop Palace t-shirts and apparel here.
Palace X Elton John Black T-Shirt
Last March, the London-based streetwear brand announced its latest collaboration with one of the best-selling solo artists of all time, Sir Elton John. Palace Skateboards and the popular 'Rocket Man' singer took to Instagram to share the teaser video, which sees the musician show off a preview of the upcoming collection. Elton John made no secret of the excitement over the collaboration. I've never been a skateboarder, but that won't stop me from wearing the lot. – he said.
The 16-piece collection features some of the singer's legendary photos from the '70s, including one from his concert at Dodger Stadium woven into the rug. Other pieces include sweaters, t-shirts, velor tracksuits and limited-edition skate boards.
This black, short-sleeved t-shirt features one of Elton John's iconic portraits, which reads "PALACE" in the sunglasses.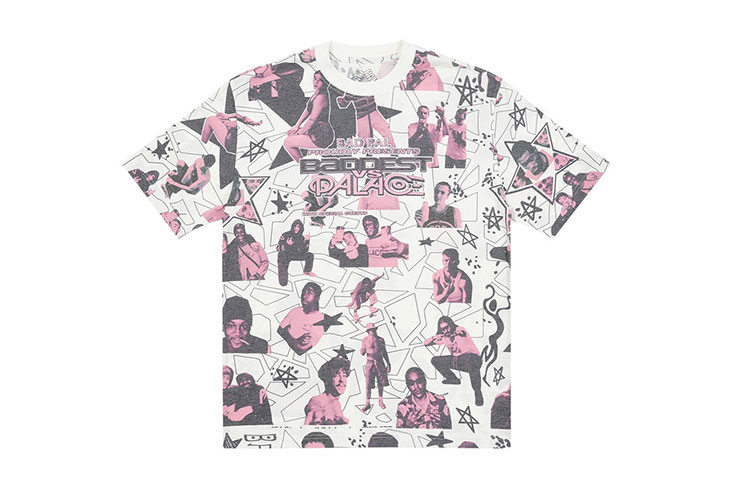 Palace X Brixton's Baddest Graphic T-Shirt
For the Spring Summer 2022 season, Palace has teamed up with Brixton's Baddest to create a unique capsule collection that draws attention to London's legendary skate shop. Opened in 2015, Brixton's Baddest serves and develops the local skate community in Stockwell Skatepark, and is an integral part of the South London skate scene.
The collaborative apparel and accessories collection, which features unique graphics and co-branding, includes graphic tees and hoodies, complete with a signature bucket hat. This heavily printed t-shirt features photos of team riders and store friends, along with the Baddest vs. Palace on the chest.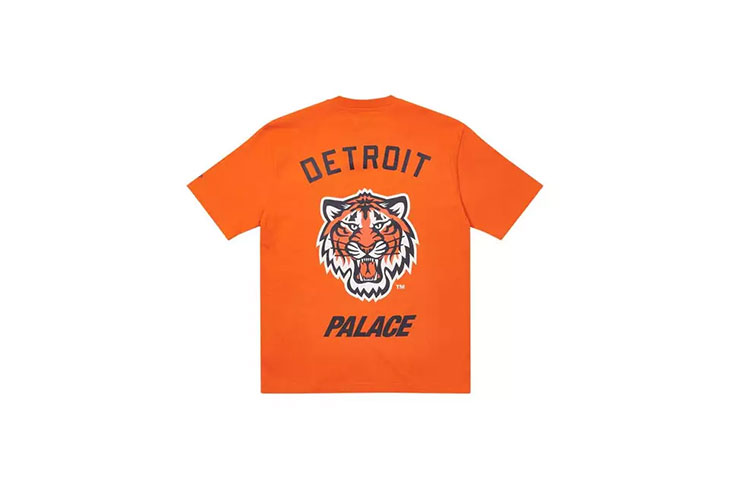 Palace X Detroit Tigers Orange Tiger Tee
Following the official launch of its SS22 collection, Palace unveiled its collaborative venture wwith the Detroit Tigers baseball team. Celebrating the city of Detroit, as well as its creators, skateboarding culture and techno music scene, the co-branded apparel and accessories collection includes varsity and coach jackets, t-shirts and hoodies , as well as caps and balaclavas. The color scheme is inspired by Detroit Tigers uniforms, including navy blue, orange, white and gray.
This orange t-shirt features a small Palace and Detroit logo on both chests, as well as the larger logos and a tiger on the back. It goes perfectly with the track pants from the same collection.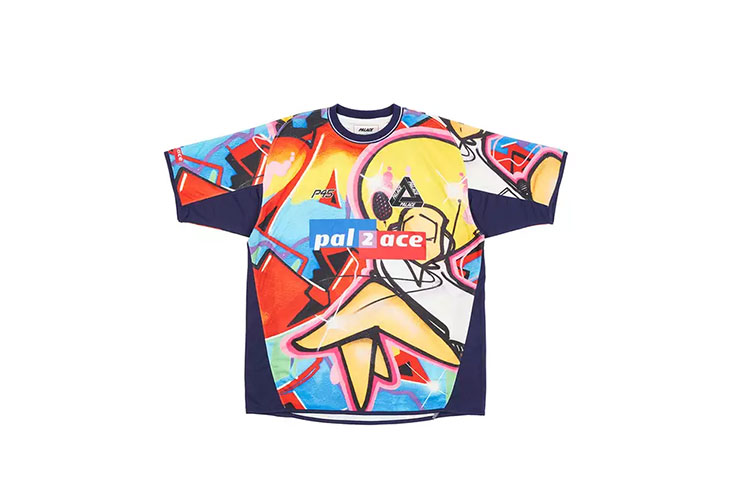 Palace X Zombie Graphic T-Shirt
For this past festive season, Palace have worked with one of London's most respected graffiti artists, Zomby, on a limited-edition capsule featuring a range of denim two-pieces, football shirts and the iconic leather jacket. Avirex.
Known for his simple, clean-lined letterwork since the mid-'80s, the British artist has applied his signature graffiti to this short-sleeved t-shirt, which features a small Palace logo on the left chest, as well as the large "pal Z ace lettering.
RELATED: How Jonah Hill became the Palace fashion icon