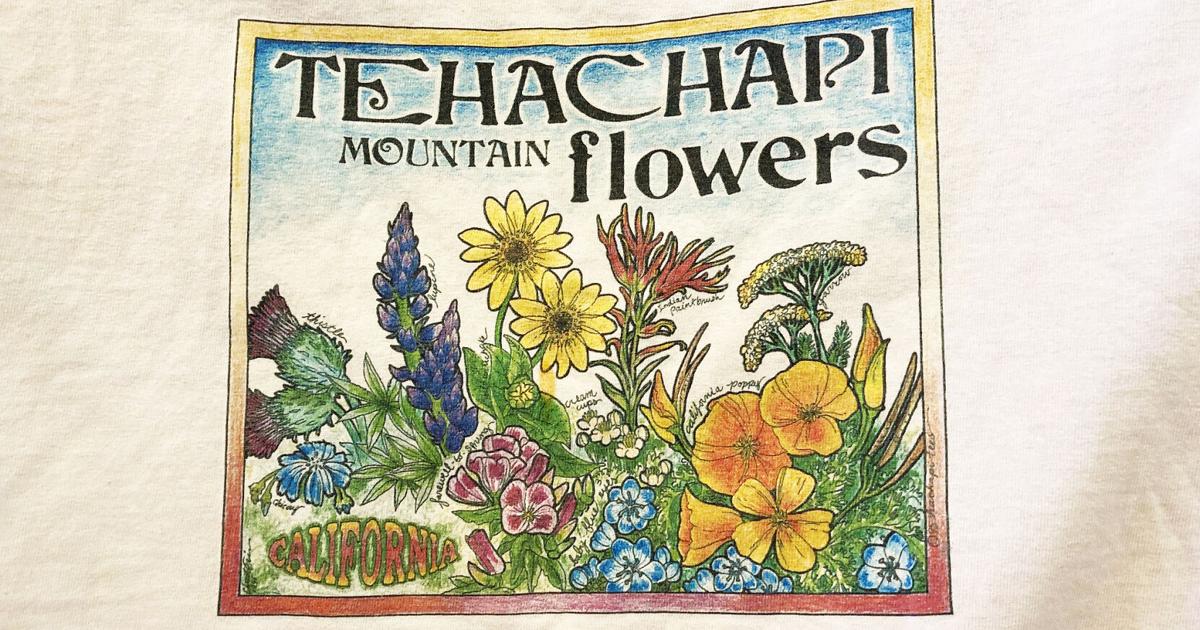 Pen in Hand: A T-Shirt for the Occasion: Vintage Readers' Shirts | Way of life
Several weeks ago, I wrote a column about vintage Tehachapi t-shirts and featured some of them, including several belonging to former Tehachapi resident Kirk Smith. I invited other readers to send me photos of classic shirts they had, and I received a few that I had never seen before.
Over the years, many Tehachapi t-shirts were created by a company called 'hachapi Tees, which opened in 1989 and was operated by Scott and Christi Friesen. In addition to creating custom shirts for businesses, events and celebrations, 'hachapi Tees has also created its own souvenir t-shirts for the Tehachapi region.
An example of one was sent to me by Carol Rush, who said she got it in 1995 from the 'hachapi Tees store near Witt's Everything for the Office in the Old Town shopping district .
The t-shirt features accurate depictions of 10 different native wildflowers in color, and Carol says it's still one of her favorite shirts. The 'hachapi Tees company has made countless other Tehachapi themed shirts over the years. While the storefront closed in 2015, Scott still operates the screen printing and embroidery business from home with the same phone number and email/website he always used, and 'hachapi Tees has an online presence.
One of the more unusual (and confusing, for those unfamiliar with the story) t-shirts is represented by a photo submitted by Nancy Whittier. The shirt loudly proclaims "I Flung Dung" and "Tehachapi Mt. Festival" on the front, along with a caricature of a cow.
This refers to a competition that in the 1980s was part of the Tehachapi Mountain Festival: the annual cow chip throwing contest. This legendary event saw competitors tossing dried cow patties to see who could throw one the farthest, a sort of throwing disc or Frisbee, except the projectile was a roughly circular old disc of cow manure collected from a local cattle ranch.
Yes, it was part of the Mt. Festival here at one point, as unlikely as that might seem. In fact, the world distance record for throwing a puck of dried cow poo was set right here in Tehachapi.
The Guinness World Records website states that: "Record distances in the national sport of throwing cow jerky or 'crisps' depend on whether or not the projectile can be 'cast into a spherical shape'. The greatest distance reached under the 'non-spheralization and 100% organic' rule (established in 1970) is 81.1 m (266 ft), by Steve Urner (USA) at the Mountain Festival, Tehachapi, California, USA on August 14 nineteen eighty one ."
The cow chip throwing contest was scrapped from the Tehachapi mountain festival over 30 years ago, but Steve Urner's record still stands. And Nancy still wears her 40-year-old collector's t-shirt to the Mt. Festival every year.
Another sample shirt was submitted by Barbara Novinger, whose parents George and Anne Marie Novinger were one of the founders of The Apple Shed. The shirt is inspired by old fruit packaging labels and reads "Tehachapi Delight Apples". This is a 30 year old shirt also designed by 'hachapi Tees.
Rufus and Dianne Thomas submitted several shirts from their collection, mostly geared towards Tehachapi car shows, as they have long owned vintage vehicles and are founding members of the Tehachapi Car Club. They also have an example of the 1988 Tehachapi Mountain Festival t-shirt, like the one owned by Kirk Smith. This is a very attractive design featuring settlers in an ox-drawn covered wagon, a large oak tree, and an orange sunset background.
Over the years, most Tehachapi t-shirts have been created by 'hachapi Tees or another community-favorite customizing store, M&M Sports Uniforms and Embroidery on Tucker Road, operated by Marcos and Maria Curiel. This wearable art is a fun way to represent our beloved little corner of the world, and sometimes the shirts are still decades later. . .
Have a good week.
Jon Hammond has been writing for Tehachapi News for over 40 years. Email [email protected]