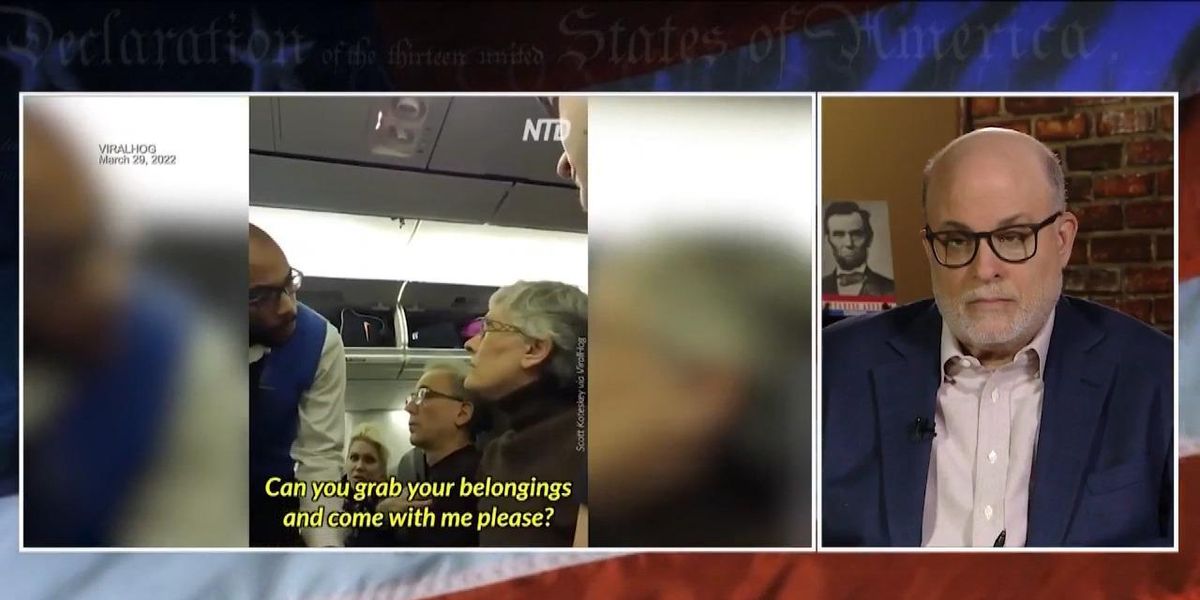 Lunatic loses his mind over a t-shirt, so justice is served
In this episode of "LevinTV," Mark Levin reacts to cellphone video that captured the moment a woman was kicked off her flight for being an intolerable leftist.
A woman on a plane lost her mind after a young man wearing a pro-Trump t-shirt sat down next to her. She quickly became agitated and began berating and verbally attacking the young man. Mark explains that female behavior is exactly what crazy lefties do.
The woman had the nerve to order the flight crew members to move the young man to another seat. Eventually, the woman's husband offered to switch seats with her to resolve the issue, but the flight crew was done with that moment. Mark notes that the madwoman's husband looked like a "wimp" sitting there doing nothing to improve the situation.
The flight crew asked her to leave the plane before takeoff, but she fought back, assuming the position of "the victim". Defiantly, the woman declared that her husband's mother had just died and she was not leaving her seat.
Mark explains that if his mother-in-law is dead, why not shut his big mouth and leave this child alone next to her so that she can go to the funeral? She was the provocateur, not the child.
The flight crew knew not to think that changing seats with her husband would solve the problem. According to Mark, the flight crew deal with unreasonable people enough to know that people like her don't just calm down once the plane is airborne.
Watch the clip to see Mark's full reaction to this crazy leftist plane passenger losing her mind over a fucking t-shirt.
Can't watch? Download the podcast here.
Want more of Mark Levin?
To experience more of "The Great One" – Mark Levin like you've never seen him before – subscribe to BlazeTV – the largest multiplatform network of voices who love America, defend the Constitution and live the American Dream.