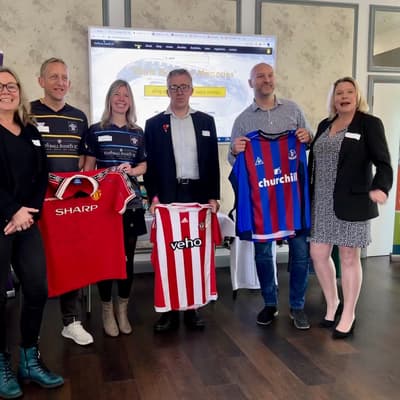 Football shirts wanted by the Bordon association
FOOTBALL shirts from Manchester United, Southampton and Crystal Palace were among those donated to charity at an event for local businesses in Bordon.
At a recent SiGNAL BiZHUB event, business owners were introduced to Jayme Sporton and Tania Harding who, as cancer-stricken football fanatics, saw an opportunity to do something about the disease by creating Football Shirts For Charity.
It sells donated football shirts from around the world, with all profits made by the organization going to cancer charities, the Bobby Moore Fund and Cancer Research UK.
Jayme and Tania's motto for their charity is "Every shirt has a story".
They said: "Football is the national sport that transcends all generations and walks of life.
"It's a very special community that provides belonging and conviviality. We wanted to do something different. »
Dedicated to selling retro, used and vintage football shirts from around the world, worn by teams ranging from international to local non-league level, they said: "The sight of any football shirt always conjures up so many memories and special conversations.
"Football Shirts For Charity was born out of a love of knowing the pride of securing ownership of a pre-loved, historic, retro or vintage football shirt, while also contributing to vital charities."
SiGNAL BiZHUB, a membership club for Bordon and surrounding business owners, helps connect businesses with the support they need. The group meets regularly for networking events and workshops. Jayme and Tania joined BiZHUB in January 2022 to help grow their new charity.
Insurance negotiator James Evamy met Jayme and Tania through BiZHUB, and was so touched and inspired by their story that he gifted them 25 of his beloved football shirts, including his Manchester United jersey signed in 1999.
These were gratefully accepted and James had the pleasure of passing them the shirts during the SiGNAL BiZHUB event at BOSC on April 29th. Pictured, left to right, Emma Selby of SiGNAL, Jayme Sporton, Tania Harding, James Evamy, Stuart Austin of Sutton Winson Ltd and Louise Eldridge of SiGNAL.
Anyone with a football shirt they no longer wear and wish to donate to Football Shirts For Charity should visit www.footballshirtsfc.co.uk for more information.